Session Locations and Equipment
Dungeon and Equipment
When I am home in South Florida I use a beautiful 2 room fully equiped dungeon in Fort Lauderdale. If you have attended one of the balls to the wall parties then you will be familiar with the space. Large equipment includes a steel cross, bondage table, multiple bondage benches, cage, smother box, potty chair, suspension hoist and leather sling. The location is air conditioned, private and secure, parking is literally right outside the door.
The dungeon also contains a wide selection smaller implements such as whips, canes, paddles and crops. There is plenty of rope for bondage plus cuffs, collars, gags, and masks. A full violet wand kit and tens unit are on hand for electrotorture. The cross dressers corner has a broad selection of outfits along with wigs, shoes and accessories. Additional kinky odds and ends include gas masks, pig noses, funnels, chastity devices, plugs, and vibes. Plus there is an assortment of smaller implements such as nipple clamps, sounds, parachutes, weights etc.
I also have an extensive collection of my own BDSM implements.You are welcome to request that I bring an item you have seen in my photos or that I have used on you before. You can even give me a bit of a thrill by requesting a particularly harsh implement like my singletail or leather strap. Certain cumbersome items such as my latex vacuum bed and bondage swing will only be brought upon request. Do NOT ask me to list all available equipment, be specific and ask for what you are seeking.
Outcalls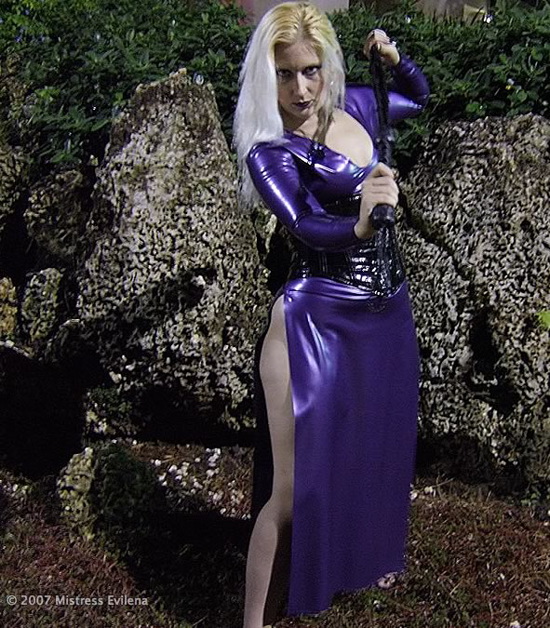 Outcalls are available at my discretion in the Miami and Fort Lauderdale area. I will permit outcalls to other areas in South Florida such as Palm Beach, Naples or the Keys for an additional fee dependent on distance. I will bring an appropriate assortment of my equipment in these instances. If you would like to see me for an outcall you must request this including location on your session request.
Note that I generally do not permit outcall sessions to private residences. Exceptions may be mad considered on a case by case basis.

I also offer outcalls for those interested in public play or other excursions such as local fetish parties. If you have a special scene or location in mind be certain to ask me about it on your session application. You are responsible for paying extra expenses such as club entry fees or drinks.

I am open to alternate Dungeons if you have someplace specific in mind and are willing to help coordinate the rental. Additional fees may apply depending on location and rental costs.

While outcalls can be convenient some scenes are best suited to the dungeon. If you are a tourist and do not have access to a car I can transport you to and from the dungeon for an additional fee.
Feel MY True Power
Obey Me and Serve Now!